Settlement Agreements – Sign off /negotiation expert
Specialist settlement agreement solicitor David Greenhalgh has advised on and negotiated settlement agreement exit terms for over 27 years.  His expertise has been recognised in the Legal 500 2023 (the main independent guides to the best lawyers in the UK) in which he is top-ranked as a Leading Individual.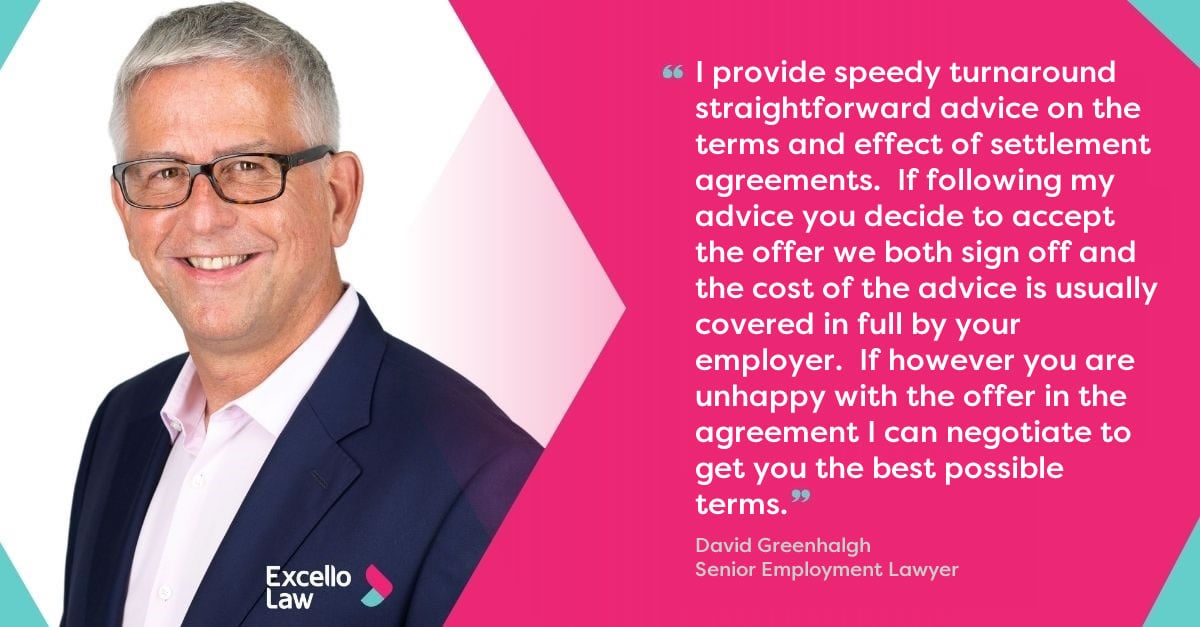 Clear independent advice is given by David on your potential legal claims and their value enabling you to weigh up whether to take the package on offer in the settlement agreement.   If following David's advice you are happy with the terms of the offer the agreement can be signed off.
If having taken advice you wish to seek changes to the terms – including the sums being offered – David is an experienced negotiator and has an excellent track record of securing the best possible exit terms.
Your negotiating position will be strengthened if you have potential legal claims against your employer which are not adequately compensated under the draft settlement agreement.
You are required to take independent legal advice from an independent lawyer on the settlement agreement and once it is signed by you, your employer and you have obtained a certificate/s signed from your legal adviser the agreement will become legally binding.
You will be waiving any potential employment claims so getting clear advice on any potential claims that you are giving up by signing the settlement agreement is essential.
David can advise employees of any seniority on their settlement agreements (much of his work is with senior-level executives).
Your employer will usually cover the cost of you taking advice on the terms and effect of the settlement agreement.  With senior level exits employers can sometimes be persuaded to cover all legal fees.
The main elements of settlements agreements which can often be negotiated with an employer include:-
more money – usually an increase in the ex gratia sum
benefits/pension contributions for notice period
pushing back the termination date
shares/equity/options/awards/long terms incentives/good leaver status
bonuses
agreed reference
agreed leaving statement
waiving/reduction of restrictive covenants
confidentiality and reputation protection provisions
retaining company property (mobile number/laptop)
extending medical cover for a period post termination
outplacement support
See our guide on negotiating settlement agreement terms here.
If you have been given or if you are expecting to be given a settlement agreement please contact David to discuss how he can advise and sign off your agreement (if you are happy with its terms) or negotiate for better terms .
David is contactable on 0203 603 2177 or Click To Make A Free Online Enquiry.
Advice can be given by phone, by online conference call or in person at 110 Bishopsgate.
"Terrific, really got it right and helps you make the right decision"
"Unstuffy, personable and down to earth"
"Innovative, commercial solutions to complex legal and business issues"
"Speedy turnaround and punchy, hands-on approach"