Settlement Agreement Lawyer London
David Greenhalgh is a leading solicitor for settlement agreements within this specialist field of employment law. David has over 28 years of experience helping advise employees and senior executives when it comes to their settlement agreement and exit terms. Serving clients predominantly in London and the South East, but also offering services nationally, David's goal is to secure the best possible outcome as soon as possible when it comes to your settlement agreement. From helping to advise you and sign off your settlement agreement settlement on a same-day basis, to negotiating for better terms including increased ex gratia payment, to agreeing on a positive leaving statement. David has a wealth of experience to advise you on your settlement agreement.
If You Need Your Settlement Agreement Signed Off, Or If You Need Helping In Negotiating For Better Settlement Agreement Terms, Please Do Not Delay.
Call specialist Settlement Agreement solicitor David now on 020 3603 2177 or <Click Here To Make An Online Enquiry.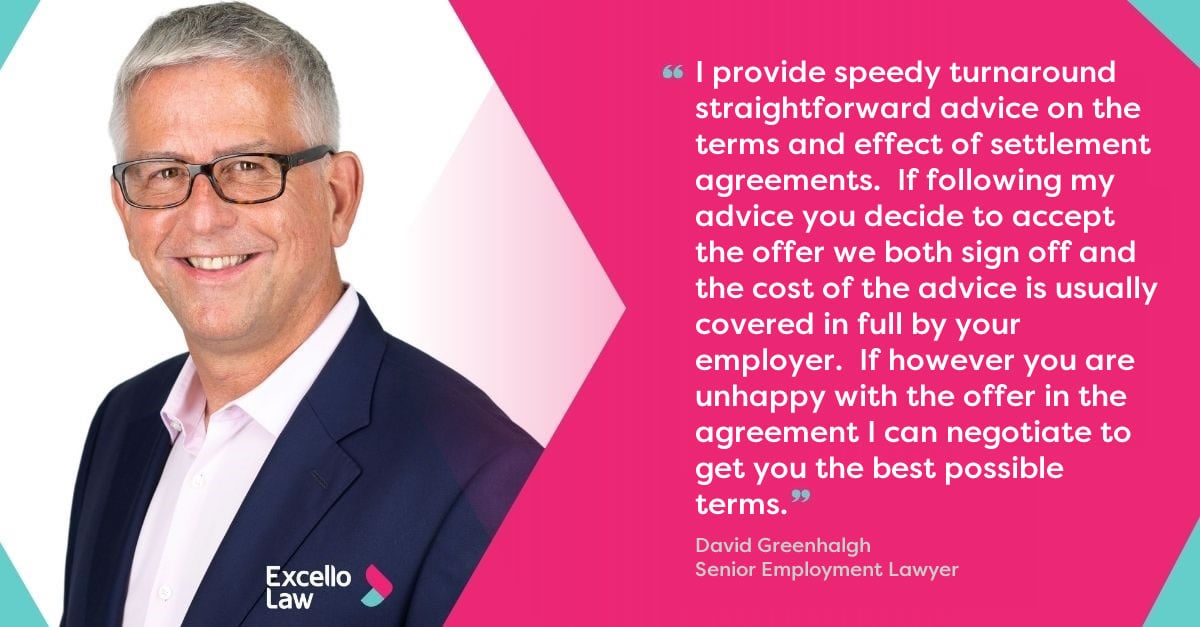 Solicitor For Settlement Agreement Services
At Settlement Agreements London, David has the experience to achieve a number of fantastic outcomes for his employees and senior executive clients. Some of the results he has achieved include:
Signing off settlement agreements on a same day basis to enable employees to comply with strict return deadlines set by their employers.

Successfully negotiating substantial increases in ex-gratia payments to reflect a potential high value claims being waived.

Getting notice pay increased to include employer pension contributions and benefits.

Negotiating positive leaving statements and wording to reduce risk of employer criticising client post termination.

Obtaining payments of a pro-rata bonuses – where bonus rules stated that no bonus due.

Securing beneficial treatment of share options/LTIPs  that would otherwise have been lost, including vesting on a pro-rata basis.

Negotiating extension of medical cover to allow the employee to continue having essential medical treatment post termination of employment.

Agreeing the removal of a non-compete restrictions and reductions in the length of other post termination restrictions.
To find out more about how David can help you with your settlement agreement contact him by phone, email or by filling in the online contact form.
Why Choose David For Your Settlement Agreement Solicitor London?
David's goal is to help you achieve the best possible outcome on your settlement agreement as quickly as possible. With over 28 years of experience in signing off and negotiating settlement agreements, with his tactical expertise David has achieved great results with his in-depth knowledge of how employers think. He'll work alongside you to help you achieve your end goal.
About David Greenhalgh
David Greenhalgh is a nationally recognised settlement agreement solicitor ranking as a Leading Individual in the Legal 500 2023 edition. David's background as a litigator working on complex high court cases such as Sunrise Brokers v Rodgers and the Omagh Bombing Families Civil Action against the Real IRA means that you benefit from his tactical expertise and by having him in your corner when it comes to your settlement agreement you can have confidence in the results David can achieve for you. 
For immediate assistance from David please call now on 020 3603 2177 or Click Here to make a free online enquiry.
Settlement Agreement Guides
David offers a range of expert guides for senior executives on a range of topics surrounding settlement agreements including 'how to negotiate terms'. Read the latest guides to find out more. 
Testimonials
"I was already happy with the settlement agreement terms I had been offered but only had limited time to accept.  David provided a fast turnaround service which enabled me to get same day advice and sign off"
"The Invaluable advice I got from David helped me feel in control.  He negotiated me a far better deal than was offered to me originally."
"David held my hand throughout a very messy exit and with his help I left with a large financial settlement to see me through to my next role"
"David was great on tactics. He helped me prepare for my redundancy consultation meeting which resulted in me being offered a decent exit package"
Contact Our Solicitor For Settlement Agreements
If you want to find out more about how David can help you with your settlement agreement, get in touch with him today via phone, email or by filling in the online contact form. David will get in touch with you to see what he can do to support you and help you achieve your end goal.