Senior Executive Settlement Agreements
If you are a senior executive looking for advice and guidance with the signing off or the negotiation of an employment settlement agreement, then you're in the right place.
David is top-ranked and listed as a Leading Individual specifically for his work with senior executives in the latest Legal 500 2023 edition (the main independent guide to the best employment lawyers in the UK).
David offers tailored advice for senior executives on the entire settlement agreement process. This includes:
legally required advice in signing off terms;
bespoke advice on negotiating better terms.
David has over 28 years experience of advising senior executives on their settlement agreements and understands the complex and high-value issues which are often involved.
Settlement agreements, previously known as compromise agreements, are an agreement between you and your employer about your terms of exit. There is specific legal protections which may apply to discussions between you and your employer around agreeing exit terms (protected and without prejudice conversations and discussions).
Are you a senior executive? Do you need advice and sign-off on a settlement agreement? Or would you like help in securing better terms?
For immediate assistance from David please call him now on 020 3603 2177 or Click here to make a free online enquiry.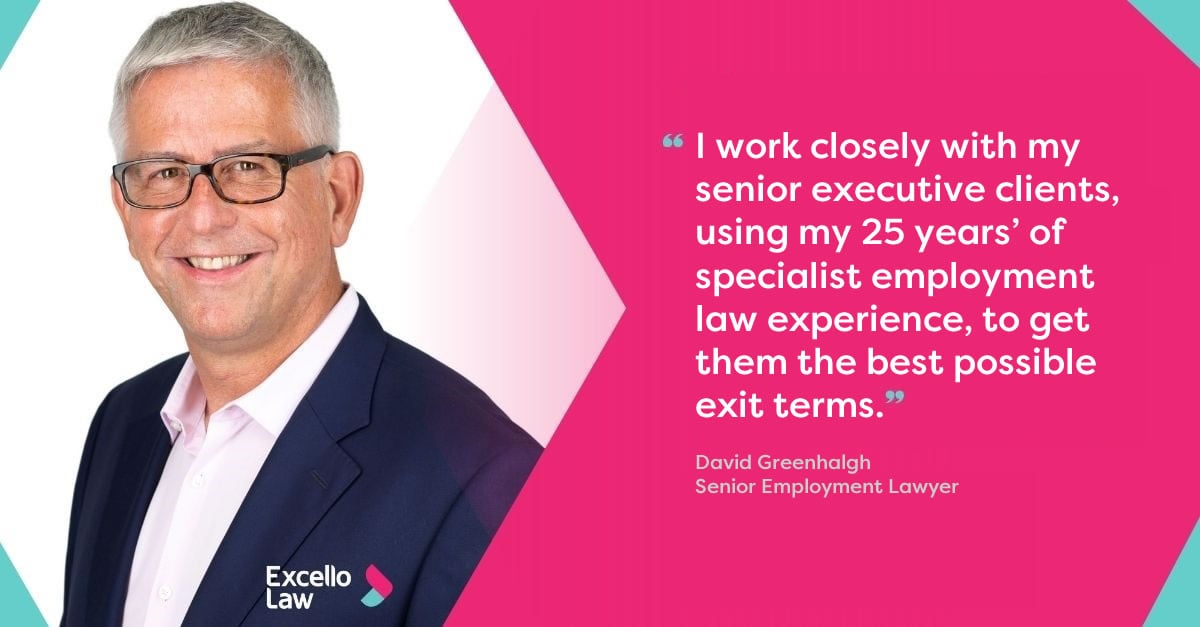 UNDERSTANDING WHETHER THE VALUE OF THE SETTLEMENT AGREEMENT TERMS ARE FAIR
Often, exit terms will be set out in a document known as a settlement agreement. The first draft of which is prepared by the employer and given to the senior executive usually after a protected/without prejudice conversation discussion involving HR.
David uses his litigation background and his tactical expertise to negotiate high-value settlement terms. His expertise in helping senior executives has been recognised over the years by both the main independent guides to the UK legal profession.
If the terms on offer do not reflect the value of your potential claims or what you know has been paid to others at your level, David can negotiate to secure enhanced terms.
Many of David's senior-level clients have valuable elements as part of their employment packages including:
Long-Term Incentive Plans (LTIPs)
Restricted Stock Units (RSUs)
Options
Bonuses
These elements usually form key elements for negotiation and protection when it comes to settlement agreements.
If the terms on offer do not reflect the value of your potential claims or what you know has been paid to others at your level, David will negotiate to secure enhanced terms.
Once you understand the value of any potential claims you may have, David can help you in weighing this against the value of what is on offer in the draft settlement agreement given to you by your employer.
Weighing up whether to take the offer or to negotiate and if so for what increased terms is complex and David can advise you. David Greenhalgh will help you get the best possible exit terms. Call David on 020 3603 2177 or make a free enquiry online.
SETTLEMENT AGREEMENT ADVICE FOR SENIOR EXECUTIVES
The only way for your settlement agreement to be legally valid is for you to be advised on its effect by a settlement agreement lawyer. Because you are waiving your employment law rights when signing a settlement agreement, it follows that you should take strong and fully independent legal advice to ensure you get the best outcome.
David can provide his expertise on the following areas within employment settlement agreements, which can be discussed and sought as part of any negotiation. These areas are:
increasing in the ex-gratia/tax-free element;
pay in lieu of notice and whether this should also include benefits and pension;
the payment of bonus (pro-rata basis or in full);
treatment of LTIPs, RSU's, options – leaver status, pro-rating or accelerated vesting;
agreed reference;
agreed internal and/or external leaving statements;
removal/reduction/variation of post-termination restrictive covenants;
restrictions on your employer disclosing the terms and existence of the settlement and/or damaging your reputation;
retaining company property (e.g. mobile phone number, company car, laptop etc.);
extension of medical cover;
outplacement support.
Read more on How To Negotiate The Best Package Under An Employment Settlement Agreement. This guide will offer you David's Top Tips on negotiating the best terms for your settlement agreement.
Call David Greenhalgh on 020 3603 2177 to speak with him today or make a free enquiry online.
CONTACT DAVID GREENHALGH TODAY
If you are a senior executive and need advice and sign off on your settlement agreement or if you need help in negotiating the terms of a settlement agreement or if you need tactical advice on how to secure an offer of exit terms please call David for an initial discussion on 020 3603 2177 or Click here to make a free online enquiry.
SETTLEMENT AGREEMENT FAQS
Does My Employer Have To Provide A Reference?
No, there are no legal requirements or obligations on your employer to provide you with a reference. You can however ask for one to be included as a part of your settlement agreement together with the exact wording to be used.
Are All Settlement Agreements Confidential?
A large part of settlement agreements are in place to keep sensitive information confidential. Most settlement agreements will therefore contain a restriction on you and your employer keeping the existence, terms and background of your agreement confidential. There will usually also be a restriction to prevent you making disparaging remarks about your employer (in the widest sense) once you leave, most clients will want a similar restriction on their employer.
What Are My Tax Liabilities For My Settlement Agreement?
£30,000 of any payout received as part of your settlement (including any redundancy pay) can usually be paid tax-free. If you receive more than this, it will be subject to usual deductions unless you are making a payment into your pension or the payment represents compensation for injury to your feelings in relation to discrimination.
Will I Receive My Bonus As Part Of My Settlement Agreement?
Since you will have waived your rights as an employee under the terms of the settlement, it is essential that payment of any bonus is included as an express term of that agreement.