Senior Executive Settlement Agreements
David Greenhalgh is a specialist settlement agreement lawyer based in London working with senior-level executives in advising them on their settlement agreements and helping them to secure the best possible exit terms.
Click Here To Contact David About your Exit .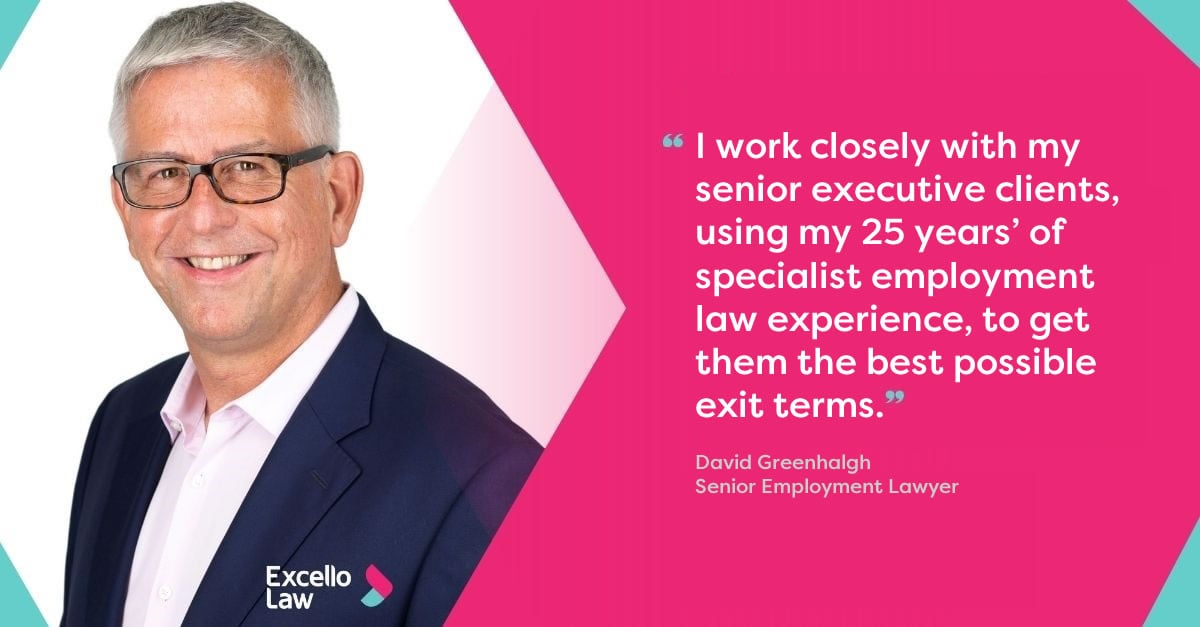 Are you a senior executive?  Do you need advice and sign off on a settlement agreement? Or would you like help in securing better terms?
Often exit terms will be contained in a settlement agreement (previously known as compromise agreements).  The first draft of which is prepared by the employer and given to the senior executive usually after a protected/without prejudice conversation discussion involving HR.
David uses his litigation background and his tactical expertise to negotiate high-value settlement terms.  His expertise in helping senior executives has been recognised over the years by both the main independent guides to the UK legal profession.
Many of David's senior level clients have valuable elements in their employment packages like equity awards, shares, long term incentive plans (LTIPs), options and bonuses.  These elements usually form key elements for negotiation and protection in settlement agreement terms.
"Superb, realistic, jargon-free, employment law advice. I'd have no hesitation to recommend David Greenhalgh to employees or employers, and indeed have done with other colleagues benefiting from his specialist employment law experience. He is commercially-focused and gives practical advice to solve employment issues. He's professional, responsive and works quickly."
Sarah Williams
For immediate assistance from David please call 0203 603 2177 or Click To Make A Free Online Enquiry.
THE TERMS OF YOUR SETTLEMENT OFFER
If the terms on offer do not reflect the value of your potential claims or what you know has been paid to others at your level, David can negotiate to secure enhanced terms.
Once you understand the value of any potential claims you may have David can help you in weighing this against the value of what is on offer in the draft settlement agreement given to you by your employer.
Examples of settlement agreement terms that David helps negotiate:
pay in lieu of notice and whether this should also include benefits and pension
bonus
treatment of options – leaver status and pro-rata and/or accelerated vesting
agreed reference
agreed internal and/or external leaving statements
reductions in post termination restrictive covenant period
restrictions on your employer disclosing the terms and existence of the settlement and damaging your reputation
retaining company property (e.g. mobile phone number, company car, laptop etc)
extension of medical cover
outplacement cover
David has produced a Guide for senior executives on the issues involved in negotiating settlement agreement terms.  Read the Guide here.
If you are a senior executive and need advice and sign off on the terms of a settlement agreement or in negotiating for better terms please can David for an initial discussion on 0203 603 2177 or Click To Make A Free Online Enquiry.
"Terrific, really got it right and helps you make the right decision"
"Unstuffy, personable and down to earth"
"Innovative, commercial solutions to complex legal and business issues"
"Speedy turnaround and punchy, hands-on approach"